Langtang Trek - Day 1 Kathmandu
The fireworks and singing had gone on into the early hours of the morning. I wondered if this was normal for Kathmandu; if so, it wasn't going to be easy to get to sleep during the nights to come. I looked at my watch - still only five thirty but I was wide awake.
Taking a shower, I remembered to keep my lips tightly sealed so that no water entered my mouth. Tony (the leader) had been very specific about taking precautions against gardia, a particularly nasty stomach bug. This was certainly one trip where I intended to make sure that I did all that was possible to avoid getting problems.
Although barely light, I decided to go for a walk in the city. I had been told that most of the locals started to wend there way to the markets at about this time. I wondered along the narrow streets, and noticed that there were no pavements. House and shop fronts spilled directly on to the narrow streets. The Thamel area, in which the hotel was situated, looked somewhat run down, yet, there was an intangible charm about it that is difficult to describe. Guesthouses, restaurants and shops were pushed together cheek by jowl. None of the guesthouses looked particularly appealing, but then again neither had my hotel, from the outside. In the cool morning air, stray dogs were slumbering, huddled together for warmth. The trishaw owners were also sleeping in the open; wrapped in blankets, they made use of the passenger seats as a makeshift bed. One or two raised their eyes in anticipation of a fare, but no one made a determined effort. I wondered on.
As I headed for the area that I had been to last night, I came across an army of women armed with bessom brooms. Industriously, and in unison, they swept away the remains of the fireworks and litter from the festivities last night creating a pall of dust. Further on I came across cows that were busy sorting through the piles of rubbish scavenging for food. It seemed so different not to see them grazing in a field. Eventually I came across market stalls with vendors selling fruit vegetables and refreshments to the local people setting about their daily routine.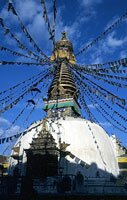 I wondered off the route that I had taken last night, more by accident than design, and was intrigued to find a small stupa. Its white dome had the obligatory all seeing eye painted upon it which followed me suspiciously as I wondered around. Already, locals were walking clockwise around it offering prayers and gaining merits for their future life. Flocks of pigeons were busy shuffling around the floor looking for seed. It was almost as though there was an expectancy that they were going to find some. Suddenly, there was a flurry of activity as the flapping of wings broke the quite of the morning. I felt a rush of wind as the birds hurried past me, someone began to throw seed, and more merits were being earned.
I returned to the main thoroughfare and began to walk back in the direction of the hotel. It was busier now and the traffic had increased; pedestrians, cows, dogs, bullocks and carts, motorcycles and cars weaved in and out like a well rehearsed but chaotic dance. I saw a cart bearing the carcass of a bullock heading towards a butchers shop. Cuts of meat were hanging from the open window and piled upon the table outside. Where there was no room, the meat lay on the floor. I watched a woman standing in the road, holding with one hand the stomach of a beast, whilst with the other she squeezed its contents into a bucket. I had already decided to have a vegetarian diet on this trip, and I needed no further persuasion.
Back at the hotel, breakfast was pretty uninspiring. There was a reasonable choice, and I eagerly placed a couple of croissants on my side plate. One bite was enough to convince me that I had made a bad choice. There was a distinctive but unpalatable taste, which strangely enough also was evident in the bread. I decided that it must be a local spice or perhaps, the type of fat. Trying the local butter convinced me that I had a lot of adjusting to do. I had a bad omen about the food for the rest of the trip.
After breakfast we started on our pre arranged tour of Kathmandu. In view of the fact that we were only going to have one day in the city, it was quite appealing. I was not amused when the small vehicle arrived and six of us, plus the local guide, got in. I sat uncomfortably in the back with my head bowed owing to the lack of roof space. I never was any good at yoga, and this was definitely one of the more advanced positions. I didn't see much on the way to our first destination, but thankfully it was a short journey.
Pashupatinath is situated on the Bagmati River, both of which are vary sacred sites for the Hindus; it was an intriguing place. The river flows down the middle of the collection of buildings, which is flanked on one side by ghats. Not as grand as those in neighbouring India, but the river is revered in the same way with locals bathing in the murky water (I have recently been told that the same water finds it way into the local brewery). We passed the temple, which is barred, to non-Hindus, but I was able to see partially through the gates catching site of a large statue of a bull.
Crossing the river and climbing up the hill brought us to a terrace affording a slightly elevated view of the rest of the temple. I saw devotees bathing in the river; above them on the ghat, ashes smouldered from a recent cremation. It was still relatively early and the angle of the sun and the ambient light had a golden glow about it which all added to the occasion. In front of me, no more than a matter of feet, sat a large monkey who was watching my every move. I grasped my camera gear tightly. There was no way I was going to get too close. The reputation of these animals for stealing things together with the possibility of catching rabies should I be bitten was enough to show caution.
Further on I came across some of the Sadhus who often frequent the site. Perhaps it was because of the recent Divali festival that he was dressed so ornately. The saffron robe looked almost new, and he certainly did not mirror the image I had seen in books. I paused to take photographs, having paid my customary dues. He in turn obliged by posing and raised his hand in a customary blessing. I was quite pleased with the setting and the opportunity to photograph him.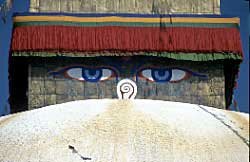 We spent an hour or so walking around the site before boarding the hideously small vehicle for our next destination. Driving through the now busier streetswe arrived at Boudhanath where one of the world's largest stupas is situated. It was so much larger than I had imagined and I had to climb up the steps to get nearer to the large set of eyes painted on all the four walls beneath the white dome. They held a fascination for me, as they depicted the mystery of the country. I wandered around the stupa, observing the ritual to walk clockwise. The top of the Stupa acted as the fulcrum for the lines that radiated around the complex; from these lines hung the thousands of prayer flags. It was wonderful to see.
We left Boudhanath and drove on to Patan a district of Kathmandu. Here the buildings were even more ornate and had a distinctly medieval flavour. Many of them had large tiers of intricately carved roofs looking as though they had been stacked on top of each other. Some had as many as four tiers each supported by wooden struts which were all hand carved. The craftsmanship was amazing. After a tour around some of the many temples we arrived back at Durbar Square and had time for ourselves. I wandered around taking photographs of some of the locals and was pleased to find two young girls who were quite unselfconsciously playing near the steps of one of the old temples. They were quite happy to have their photos taken and I whiled away the next ten minutes or so.
On returning to Kathmandu I managed to have a coffee and a slice of cake at one of the hotels, which served as my lunch. I then had the afternoon free to get ready for the trek tomorrow. I wandered around Thamel and took the opportunity to buy a couple of pairs of the ubiquitous trekking trousers for a very good negotiated price;. around three pounds fifty each. Two of the others also managed to get some good bargains, but I declined to buy one of the outrageous hats that were on sale everywhere and seemed to be in fashion.
I made my way back to Durbar Square, confusing have one here as well as Patan. There appeared to be quite a lot going on and people were everywhere. On the steps of one of the buildings I watched a white person dancing away to some rock music. From his appearance I assumed he was one of the hippie types that were reputed to frequent the Freak Street area, which was just around the corner. Apparently the area has been very popular with them since the sixties when the place was a Mecca for them. I wandered away from them and went towards the palace.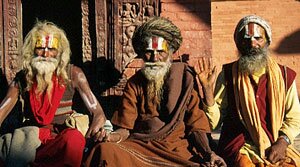 I was rewarded for my efforts when I came across three Sadhus who looked more like I had imagined. The sun by now was beginning to go down and provided some wonderful lighting for photographs and I managed to get some good close ups. I watched fascinated as one of them undid what I had thought was a form of hat, only to discover it was his hair. It had been tightly matted and was extremely long.
I eventually made my way back to the hotel and started to get myself organised for the trek tomorrow. This was in fact quite stressful and I had to make difficult decisions about what I would take with me and what would be left at the hotel. Once we left, there would be no coming back and no opportunity to buy anything en route, so it was a critical process. I also had to consider how I was going to get the sleeping bag and quilted jacket into the kit bag. They both seemed to occupy so much room, and as I had hired them here there was no way that I had chance to try packing them in earlier pre runs.
After some assistance and advice from my roommate I eventually managed to get sorted and we went off to eat. We joined up with the others and eventually found a restaurant but had to wait to get a table. Eventually, we sat and ate but by now it was getting late. Obviously you need to get a table fairly early on if you're in a rush. However the meal was worth waiting for and was cheap. We chatted and got to know each other and had a pleasant meal. Leaving at around eleven thirty we were amazed to find everywhere had shut up and the streets almost deserted. We later discovered that Kathmandu closes down at eleven. It was most peculiar, but it also seemed a good idea; I wished we did that at home.