Langtang Trek - Day 2, Kathmandu - Sybaru Bensi
Started badly with a nightmare event trying to pack my kit bag for the trek ahead. This is my first experience at this sort of thing and so far it has been traumatic. The trial run at home seemed to work reasonably well, however, having arrived in Kathmandu I picked up the down jacket and sleeping bag I had hired. I don't know where the sleeping bag came from but is like a huge cannonball that is held together by compression straps. It takes up half the kit bag on its own so I didn't know how I was going to get it in there along with my other kit.
Having completed the wrestling match, and won, just, I ventured down the road to Pilgrims Book Shop to post the postcards I had bought yesterday. They had a fantastic array of books in there which covered all sorts of subjects, and particularly the Himalayas; I was fascinated. Wanted to spend more time in there but had to get turned around to board the bus.
We left promptly at eleven to start the journey to our trekking start point. The bags were thrown into the back whilst the remainder went up on to the roof. We sat in the front whilst at the back were our porters and the rest of the trek crew, complete with all our provisions.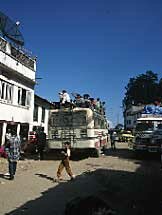 Initially, the journey was fairly mundane going through the built up area, but then, the hills came into view and we began climbing out of the Kathmandu valley. Before long the roads became no more than dirt tracks and we bounced around like little corks on a rough sea as the bus negotiated the potholes. This was how it remained for most of the next eight hours. The journey was made interesting by the glimpses of snow capped mountains on the horizon peaking majestically above the clouds. At times we would pass other buses crammed with people and their belongings, even the roof space seemed to be full. Where two buses had to pass each other it was amazing to watch how they squeezed past on even the narrowest of passing places which often had large drops to the side. I wondered if the people on the top had thought of wearing parachutes - just in case!
Lunch was in a small local village. Ushered into a local restaurant; a small dark looking place crowded with local people. The trek crew joined us and we were served with large portions of rice. Unsure of the hygiene standards I tucked into the packed lunch that had been provided by the hotel on our departure.
After lunch the journey continued with intermittent stops at various police check posts. This often resulted in the bus being invaded by local villagers mistaking our bus for the local transport and the crew then had to then forcibly get them out again.
At one check point the police started to look through everyone's hand luggage. They were very keen to ensure we didn't have video cameras. I wasn't really sure why this was such an issue but was told that you have to have a special permit for them. Tony said to be patient with the police as they could be very temperamental. Last year they had apparently decided to turn out every single piece of luggage which meant a long delay .Thank goodness that didn't happen today.
As the journey progressed the mountains gradually appeared to be getting closer, but night fell to obscure any further view. Perhaps this was as well because the road became increasingly rougher, and from what I could see of it, it was in a quite dangerous condition. Fortunately I couldn't see how far the drops were to the side. There was some discussion that the bus might not be able to get to the destination because of landslides but by some negotiation and careful driving we made it.
Quite where we were when we stopped, I don't know. The bus driver had stopped saying it was the end of the line, but as far as I could see there was nothing around us at all. It looked to be the middle of nowhere. As it was completely dark, the galaxy of stars above us, which you only really see in their glory when there is no artificial light around, looked fantastic. Donning our head torches, we then descended through some bushes and after a while of eventually reached our first campsite.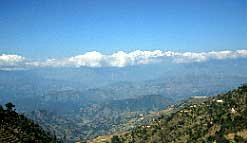 The evening meal was taken in a mess tent. This being my first trek, I found it quite amazing, there were even fold away chairs and tables. The candles made it look quite cosy! Our first meal was, Spam, cauliflower in ginger, rice, dhal and pickles. Fruit and custard followed to make it quite a feast. Then afterwards, hot drinks were available. Having had a bournvitta, I like everyone else retired to the tents.
This was my first night's camping and I had some trepidation. I needn't have worried, the guy who I had to share the tent with was a past master at camping and soon sorted things out in the tent. Our kit bags acted as a sort of partition down the centre with our sleeping bags tucked up against the tent edges. It looked fairly cosy. As I settled down for the night, I began to drift peacefully off to sleep, only to be rudely awoken by a foghorn!
Hang on I thought, we are nowhere near the sea. Then the nightmare began, my tent companion had clearly been hiding his talents - he could easily have represented the UK in any snoring match! Now I realised why the kit bags were down the centre of the tent, this wasn't modesty, it prevented me from reaching across and strangling him!