Kangchenjunga Trek - Day 11 Tseram to Ramze
It had been a clear night and we awoke to a sharp frost. A quick breakfast and we were soon away. The sun wasn't yet fully up and the steep valley sides prevented what sun there was from reaching us; it was cold. I wore some big over mitts on top of my gloves, but found they didn't stop my hands from freezing. Using trek poles didn't help either as my hands were in an elevated position which reduced the circulation. Soon they were really painful and I was very uncomfortable until Mark and Dawn got the circulation going again by rubbing my hand vigorously. I packed the poles away and continued the trek.
We crossed over a frozen stream, balancing precariously on a slippery tree trunk which was improvising as a bridge. I took no chances and crawled across on my hands and knees, thankfully reaching the other side whilst still dry, but not before Mark grabbed a shot of my rather inelegant crossing. Climbing steeply to start with, we continued to make our way through the wooded area, then after about two more hours, we cleared the tree line. We were now walking towards the ablation valley. It was a glorious morning now with clear blue sky and the sun, which had finally cleared the valley walls, began to warm me. The scenery was amazing; to our right, the wall of the Yalung Glacier separated the valley from the ice flow, and up ahead, the peaks of Rathong and Kabru pierced the blue sky with their snow capped summits. To the left of us, the hills curved steeply upwards leading to Sinion La, the other, but more trickier route, to the Ghunsa Khola in the neighbouring valley.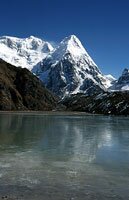 As we continued walking, rivulets of ice melt from the mountains ahead, cut across the valley. At one point they fed into a large frozen pond, a bright turquoise blue, which reflected the peak of Rathong ahead. It was magnificent and we all stopped to take photos. I gave Sirki (one of the sherpas) my camera and asked him to take a photo of me. A big mistake, I hadn't realised he was a frustrated photographer who thought nothing of firing away as if there was no tomorrow and, from all sorts of rakish angles. Free expression is one thing, my reserves of film another; I frantically shouted for him to stop before he used up the roll. Thankfully, I hadn't left the motor wind on.
Later, I got back in favour with the frustrated photographer by getting him to teach me some more of the Nepalese folk song - resam fi ri ri. Sirki finds it amusing that I want to learn Nepalese and we had a good laugh over my pronunciations. We continued trekking to reach our camp, and base, for the next two nights. The tents were laid out in a curve but looked so small against the backdrop of the mountains. From my tent I looked directly towards Rathong, where as the evening pulled in, I had the most incredible sight. I sat with the sleeping bag around my legs for warmth as I gazed at the light mauve sky, quite unlike anything I had ever seen before, reflected in the snow capped peaks. I felt as though I could almost reach out and touch them. Above Rathong, almost as if it had been intentionally placed there, a small solitary star shone; the first of the evening. This was undoubtedly one of the most beautiful places I had ever seen.