Kangchenjunga Trek -Day 5 Bangyang to Ponpedhara.
Before reading about Trek, remember the safety rules and that nothing can be repeated without specialists and guides! And also, first you need to read in more detail about the place you have chosen for the trip, https://best-writing-service.com/ this is the best writing service that will gladly cover the information gaps.
Another beautiful start to the day. The sun crept up from behind the surrounding hills casting shafts of golden light on the countryside. We continued with the ups and downs of the hills, weaving our way along the paths, before reaching our lunch spot; a small ridge on the crest of a hill between two valleys. I was now beginning to discover the consequence of us having left some provisions back at Suketar. So far a vegetarian diet meant just having the same as everyone else minus the meat or fish option, the cheese ration was some days behind.
As we ate, I was able to see glimpses of the snow capped Jannu peeping up above the horizon ahead. It had seemed so close on the flight in and quite innocuous at the time, but from this distant perspective, it looked beautiful .
Looking at the scene, I pondered on the meeting we had had this morning with a lone Canadian woman who was trekking with her own crew. She told me that she had met some people near Pang Pema, our highest destination, who had suffered altitude sickness and frost bite. Looking at this beautiful scene in front of me I knew it was going to get tougher as we got higher and I wondered what I had let myself in for.
As at most other meal times hot water was offered to replenish our water bottles. I took the chance to do so as it was very warm again. Keeping topped up helps to guard against altitude sickness. But, the water was near boiling and so I decided to pour it away. I asked for some cold water from the crew who obliged me. Later I drank some mouthfuls before it dawned on me that this water had probably not been boiled beforehand. Realising the error, I managed to borrow some iodine drops and treat the water. But what damage had been done I wondered. A language barrier, and a stupid mistake on my part. I could only wait and see what would develop!!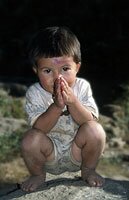 We had no sooner arrived at our village for the night when the local kids made us welcome. One in particular, a small boy of about two, repeatedly shouted "Namaste" to us whilst placing his hands in the traditional greeting by pressing the palms together. The kids were keen to know where we were from and what our names were. I took the opportunity to practice a few of the phrases of Nepali that I had learnt so far in answering them. Then getting a bit bolder, I used the phrase book as a guide for further conversation, but I'd obviously got the pronunciation wrong as a number of curious adults came over to see what on earth I was reading from.
The campsite was again in a good spot above a village. Some of the kids are in the habit of peering in to the tent coming quite close to do so. Rex says its just natural curiosity, which it probably is, but having travelled to other countries, natural suspicions were aroused and I wondered if they were just 'casing the joint' for later while we were out at the mess tent. It's so difficult to know where to draw the line between trust and suspicion in these cases. I decided to play safe and put a small padlock on the tent flap when I left.
I had a strange visitor to my tent this evening - I found a small leech squirming its way around the ground sheet. Where it had come from I don't know and thankfully it was a solitary invader. I think. Later during dinner Rex told us the tale of a trekker who had quite a phobia of things crawly and would meticulously search to see that he was free of them. During the evening there was a horrendous scream from the trekker's tent. Apparently, whilst sitting in his tent in the dark and reading by his head torch, the trekker looked up from the book only to see an enormous silhouette of a leech squirming across the side of the tent. One of the little beasts had managed to squirm its way across the glass of the head torch and the magnified shadow was being projected onto the tent wall.