Everest Trek -Day 5, Namche
Keeping a diary is very important, because in this way you share unrefined impressions and emotions, buy essay online to understand how to properly organize your time and share your thoughts in a diary.
The clouds from last night had moved away to give a clear start. From the terrace where the tents had been pitched I could look across most of Namche and saw that we were probably the only group camping here. Hadn't slept too badly really but I did do a lot of dreaming and had a slight headache which are both signs of being at altitude.

As we were going to be here all day as part of our acclimatisation, I took the chance of getting some laundry done and hung it over the guy ropes. By 06.45 we were up and away climbing the slope immediately behind the camp- site to head up to a viewpoint. Reaching the small plateau I could see down the valley to where we had entered the Sagarmatha National Park and parts of the trail leading up here to Namche. There were good views of the mountains surrounding Namche, which was a cluster of houses nestled on a plateau between the surrounding hills giving it a bowl like appearance. Looking the opposite way Lohtse and Amma Dablam were visible but unfortunately not Everest itself, which was partially obscured by cloud.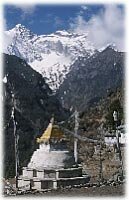 We descended to have some breakfast in the lodge and had a short break before heading out to climb another slope. On the way we stopped off at the Sherpa Museum, which was fascinating. In one part there was a good photo gallery and details of famous sherpas who had climbed in the area. I took time to have a wonder around part of the museum which had been done out like a typical Sherpa house with all the kitchen utensils on the wall. Although it was low lighting in there I managed to get propped up by a door way and steady the camera against the framework to get a few timed exposures.
We continued to climb the slope, which was getting increasingly steeper and due to the dust and loose shale, quite hard going. The dust was a new experience for me, and I was quite surprised to see so much of it here,. I suppose it was a result of erosion and the fact that the soil here was different. It looked as though there was nothing really to bind it together. We continued up on to the rim of the slope which ran around one part of the bowl of Namche eventually reaching a cairn with loads of prayer flags on it. It was getting windier now and after taking some shots we continued to the other side of the rim before descending down towards a small Monastery. Most of the monastery was locked up but we did have chance to look at a large prayer wheel housed in a room which was just big enough to contain it. A few of us walked around to spin the wheel and earn some merits for the trek ahead.
Returning to the campsite, the wind had got up stronger; despite having secured the flysheets, the dust had penetrated the tent and left a layer of fine dust everywhere. I was pleased that I had at least packed most of my gear into my bags. Not so lucky though with the washing I had left outside. After getting soaked on the way up here yesterday, I was rather hoping to have had a day of having no hassle.
The afternoon was free to do our own thing. Some of the others wondered off to send emails- amazing to think that there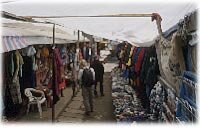 are internet facilities right up here. I wondered through Namche looking at the various stalls and shops looking for an extra water bottle and another sleeping bag liner. Heard yesterday that it was unusually cold further up the valley and so I wanted to make sure that I was going to be comfortable during the night- the water bottle would save me having to make a trip to the loo tent during the middle of the night. Must make sure to label it so that should I pass out or something no one tries to give me water from it!! Also managed to get a Patagonia fleece liner for the sleeping bag for seven fifty rupees. Don't know if its genuine - suspect at that price it's not, but it will do the job.
Stopped off en route at a bakery where I managed to find a chocolate doughnut and caught up with some of my fellow trekkers. It certainly feels weird having coffee and buns in what amounts to a small cafe right in the heart of the Khumbu. Looking around my fellow trekkers, I was quite intrigued that some of them had hand held computers. I could definitely see the benefit of writing my journal directly into one rather than scribbling in a book and then typing it up later. Made a note to investigate when I get back.
Trek Diary - Everest