Everest Trek - Day 7, Kyangjuma to Dole (4410M)
Awoke to a clear morning but cloud was already forming to obscure the peaks of Amma Dablam and Everest.
The trail cut across the slide of the hill and we climbed for a little while before dropping down again into a wooded area for lunch. There had been one or two hold ups on the way when yak trains came past us. The animals are quite oblivious to us and I remembered to stay on the higher ground as they lumbered past in case I was knocked by any of their loads. Not the thing to happen at the best of times but particularly so when there is a drop behind you.
We had only just arrived at the lunch stop where the crew had set up a blue tarpaulin sheet for us to sit on, when a yak broke away from his handler and started romping towards us. Perhaps it knew that some of the group had eaten the yak steak last night and was making a protest. Anyway, it created quite a stir and I was quite amazed at the agility of some of my companions, whose reactions in moving from a lying position to a sprint, would have equalled that of an Olympic athlete any day.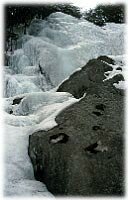 By the time we had settled down again and had lunch, the sun was completely gone and it looked as though it would rain. Setting off, we started to climb passing some spectacular looking waterfalls, which were completely frozen over. Then it started to snow and sleet and continued to do so till we reached our camp. By now there was a light covering everywhere.
Played cards in the mess tent for most of the afternoon as it was pretty miserable outside. I was starting to feel cold and decided to return to my tent and get some warmer gear, as I did so I was intrigued to see some of the trek crew making the most of the snow by sledging down some of the slopes on bits of plastic sheeting. They were certainly making the most of it.
Having changed my socks, which I discovered were damp and were loosing their insulating properties, I sat with my feet in the sleeping bag to get warm again, wondering whether the conditions would worsen further up the valley and, if so, how that would affect our chances of crossing the Cho La pass in the days to come.
The evening meal was a welcome treat; French onion soup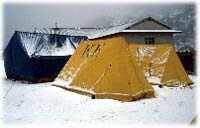 followed by pizza and chips. The pizza was probably the best I had ever had whilst out on trek, quite how the cook manages to make pizza with just basic gear is a complete mystery. To top it all there was a change from the usual Angel Delight - Christmas pudding and custard. Quite seasonal given the snow outside!
Journal Extract - Everest Trek