Everest Trek -Day 3, Jirri to Phakding
Because the airstrip is currently being surfaced at Lukla, yesterday had been an extraordinarily long bus trip through the foothills to reach Jirri where we had spent the night in one of the many lodges. Still being tired from the flight out from the UK I had hoped to have a good nights sleep, but this morning, not long after first light, someone was blasting away on a car horn in the street outside. Giving up on the prospect of further sleep I got up and decided to have a walk around the place in the early morning light. Fortunately the errant car driver was not in sight and diplomatic relations were maintained.
Prior to the airstrip being built at Lukla, Jirri is where the first Everest expeditions started out from. Even so, it failed to capture my imagination and I was glad that we would be flying out by helicopter later this morning. I wondered around a few of the stalls that had opened but saw nothing of particular interest, other than a swallow's nest under the awning of a shop.
After breakfasting in the lodge, I joined the others and made the short bus trip up to a spot overlooking the village where we waited for the helicopter to arrive. It had been a bit of a rush to get here but now it was a question of sitting on the grass watching people ferrying sacks of grain, and rice up to the area where the helicopter was to arrive. There were also great piles of building materials, cement and roof joists stacked up on the ground.
Before long I heard the tell tale chop chop chop of a helicopter approaching. I was eagerly awaiting the arrival and failed to see the locals, hanging on to their hats, covering their mouths with handkerchiefs and scarves, or otherwise scurrying away. The next thing I new was that a pall of dust was blowing my way as the rather large ex Russian army helicopter hovered briefly above and then landed. The back doors opened and the porters scurried about loading the building materials and crops into the helicopter. Soon it was off again, but it would mean a further wait for it to get up to Lukla and then come back for our group.
I sat on the grass, and dug out my sun tan lotion from the rucksack, as it was getting quite warm now. Although only late March it was warmer than I had anticipated. After what seemed a long wait the helicopter returned and after being split into two groups, we started to board the chopper. I soon saw why the chopper could only accommodate a few passengers, there was only one canvas slung bench seat along the bulkhead, everything else given to sacks of rice, grain and building materials.
We sat on the bench and waited for the off. I looked for the seat belts, and realising that there were only bits of webbing without buckles, gave up. My knot tying amounted to a granny knot at best and that wasn't going to help if I needed a quick exit. Soon the engines revved and the blades of the chopper began to make their distinctive chopping as we rose off the ground. We were about twenty or thirty feet in the air when there was a lurch as we tilted over to one side. It was then that I noticed that the sacks that had been piled in with us weren't secured in any way whatsoever. Any further lurches and we were going to be squashed- literally!
I looked around and saw the anxious smiles from my fellow trekkers as we flew over the hills and I made a mental note to consider wearing brown trousers and bicycle clips for the return trip.
I had heard so much about the short runway and the mountains looming up towards you as you sped in on the fixed wing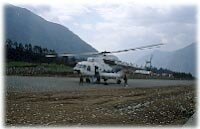 airplane, that landing at Lukla by helicopter was a bit of an anti climax. But to make up for it we did have to exit while the chopper blades were still rotating and run up the slope whilst bent over like soldiers on some sort of an exercise.
We made our way up to a lodge, which overlooked the runway, and waited for the others to arrive. We were told that Lukla would normally be teaming with trekkers, but as it was probably still early in the season, plus there being less flights at present; it was relatively quiet.
After having been joined by the others and having lunch we set off with our crew walking through Lukla and headed out across the paths leading across a valley side. We were underway at last. There were some clouds about which obscured some of the higher views but the occasional shafts of light which managed to penetrate through provided some dramatic lighting on the crop fields.
We reached our first campsite (Phakding) at about four in the afternoon. The tents were pitched in a field adjacent to one of the lodges, just across from a well-constructed metal bridge spanning the river. We had now dropped down in elevation from having landed at Lukla, and this meant that it would aid our acclimatisation before ascending tomorrow to Namche. Although only a relatively short trek today, I felt ready to reach camp. I think it was a combination of lack of preparation during the winter months at home and the altitude gain from having been at Jirri.
Instead of a mess tent, I was quite pleasantly surprised to be eating in the lodge, although our cook crew had prepared the food. I noticed that the lodge was quite well set up and modern compared to ones I had seen on the Jomsom trail. This one even had a conservatory with tables and chairs in it. I could see how easy it would be to do your own thing here and hop from lodge to lodge instead of camping.
After the meal, someone produced some cards and also some small plastic pigs. I was introduced to two new games 'hearts' and ' pigs'. It was good fun and passed away a few hours of the evening. A promising start!

Trek Diary - Everest